Guitar Picker, Crooner,
Songwriter, Recording Artist
Strongly influenced by the guitar and song writing styles of Bruce Cockburn and Paul Simon, Charlie performed fulltime for several years, including 1980-85, after moving to Victoria via Alberta from Ontario, where a highlight was performing solo at the Astrolabe outdoor theatre overlooking the Ottawa River.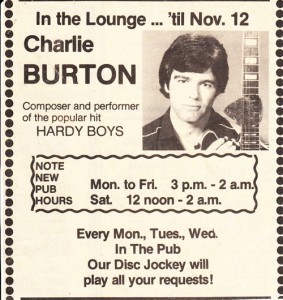 His first recording effort was "Take My Picks", an album consisting of five originals and seven covers. Paul Bennett, the Times-Colonist music reviewer at the time (1983), awarded three stars to the album, with particular compliments to the tongue-in-cheek local originals, "The Hardy Boys" (which received local airplay) and "Tale of Tahsis". The album was retitled "Something Old" as a CD in October 2009, with new artwork by daughter Mariah, a professional illustrator, to reflect a retro theme. All tracks were kept exactly as originally recorded, with only the order changed. While music eventually gave way to more conventional employment and raising a family, it continued to surface at irregular intervals.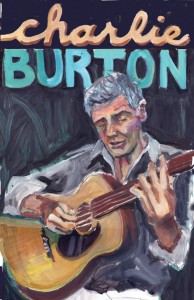 In 2007, a series of impromptu recording sessions with fellow UVic employee, Colin Newell, resulted in an 11-song CD entitled, "Island Standard Time", the artists disguised as "Two Old Goats".  The opening track, "E & N Rail Blues", which relates the history of the local railway, is one of several Island-related tunes. Most of the material – all original – consists of songs written and sung by Charlie, accompanied by his Martin D-76 acoustic, while Colin contributed the others, as well as bass and electric guitar tracks on several songs, and, most significantly, the technical recording expertise.
The album was featured on CBC Radio's "North by Northwest" in December 2007, resulting in a flurry of online sales, but the Goats' decision to resist the romantic allure of taking the herd on the road kept their profile and egos in check.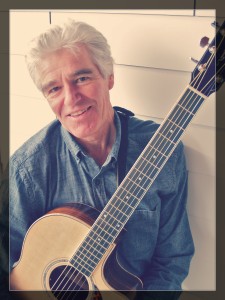 On September 30, 2011, Charlie retired early from conventional employment in order to pursue performing again until his voice or body gives out. Since then he has gradually increased his repertoire and the number and variety of venues. In July 2013 he and middle daughter, Amy, did a 4-stop mini-tour in the interior, including the Revelstoke Street Festival, where they were invited back for two nights for 2014. In early November 2013 Charlie returned from a 6-week 21-venue trip through southern BC, western Alberta, and back home from Dawson Creek through Kamloops. Every date was successful enough to earn a return invitation, so, combined with new contacts, it looks promising for a few repeats.
Primarily a solo guy, Charlie loves to play music with whichever of his three daughters are available, which is almost as unpredictable for him as for audiences who have enjoyed their various group formats. Keep your eyes on the schedule in the "Live Dates" menu on this site.
250 727-3292
chazherb@shaw.ca
January 2016